03.02.2023
TCSJOHNHUXLEY TEAM UP WITH RELIGA FOR ITS ONLINE "HYBRID" SOLUTION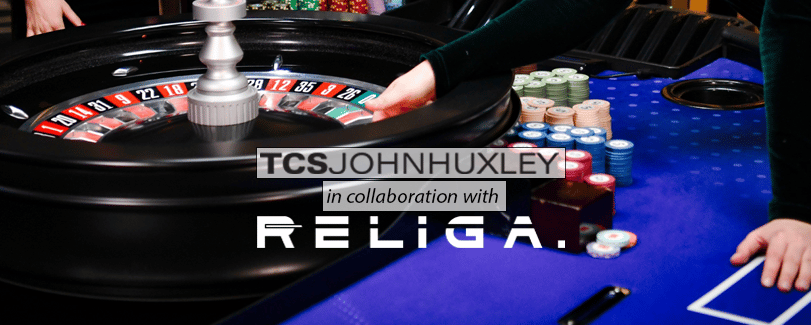 Leading global innovator of live gaming solutions, TCSJOHNHUXLEY had entered into a distribution agreement across the African continent with RELIGA, a B2B online/live casino supplier based in Malta.
By partnering with RELIGA, TCSJOHNHUXLEY will be able to offer, in addition to its extensive portfolio of games and gaming equipment, top-tier Casino hybrid solutions for Operators looking to upgrade their casino floor by utilising existing games into the online sector, resulting in increased revenue.
"TCSJOHNHUXLEY has enjoyed a leading presence in Africa for many years," says Christiaan Els, Managing Director of TCSJOHNHUXLEY Africa. "At the start of this new year, we had to recognize and celebrate the Casino industry's swift post-pandemic recovery, as well as the challenges and opportunities. Quality, innovation, reliability, and security are all flawlessly integrated into our products. These qualities are important not only to land-based operators, but also to online casinos that operate 24 hours a day, seven days a week. Now is the ideal opportunity for the online and offline segments to fully merge, which is why RELIGA was chosen as our partner, due their specific focus on live games and their competence in hybrid solutions".
Gianfranco Scordato, RELIGA's Executive Director comments, "Hybrid casino systems, in which live dealers stream games straight from the casino floor, are now one of the most exciting options for casino operators wishing to utilize their casino floor and available human resources while tapping into the inevitable, yet lucrative digital economy. We are confident that our alliance with TCSJOHNHUXLEY will create unprecedented opportunities for all our casino partners".
"As a B2B content provider specialising in live casino games, we are unique in our field because our foundation began with land-based casino operations and management, evolving into the digital world. However, we have always retained the logic and sensitivity required when dealing with traditional casino operators," says Edgar Portelli, CEO of RELIGA. "With our technology being discrete and less invasive, RELIGA provides a seamless installation and operation of the games."